Use light bulbs not only to bring light into your home. Use them to make flower pots, terrariums, flower vases, even a cute snowman. Very easy to make and also cheap you can make a lot of them and give them away as little presents to your family and friends.
For the DIY light bulb project, you will need a black marker, a pair of scissors, a glue gun, cotton batting, toothpicks, buttons, scrap material, ribbon, a sock, acrylic paint, rubbing alcohol and last but not least light bulbs.
Rub the light bulb with rubbing alcohol. By doing that, you will let the paint adhere much better when you begin painting the light bulb. Paint the light bulb all white. Leth the paint dry thoroughly. Leave the socket unpainted. After the paint has dried, apply another coat of paint. Let the second paint coat dry. Take the sock and make the snowman hat. Use a toothpick and insert it in the muff. Use the glue gun and glue the muff on the belly of the future snowman. Use toothpicks to make the nose and the hands. You can also make the hands by painting them with some brown paint. Use felt to make a small scarf. Hang the snowman using ribbon. Take the black marker and make the eyes of the snowman. Your "new" Christmas ornament is all done! Merry Christmas!
Bellow some other examples that I found on the internet, of cute snowmen, made using light bulbs.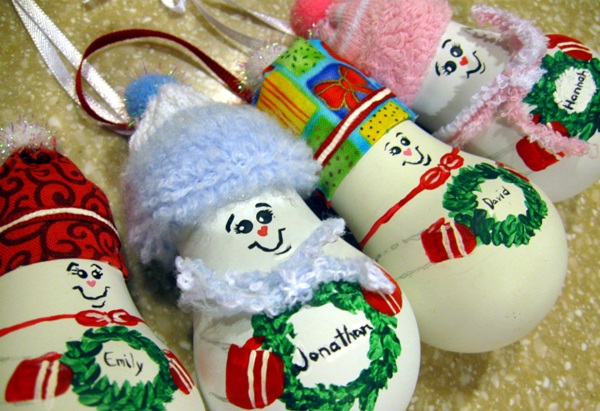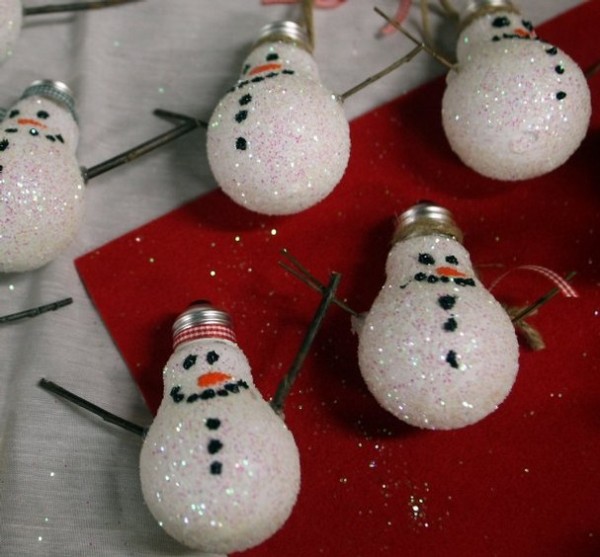 Photo via Internet