Today we hope to brighten up your day by showing you a few lovely diy lamp projects which you can make out of daily household objects. And when I say household objects I refer to some items that I am positive exist in any common household and that you might never think to use in this sort of situation. And this is not only convenient because you won't need to search a lot for the materials but it is also good from an ecological point of you. If you are a environmentally conscious person, these might turn into your favorite diy projects, due to the use of recycled everyday items. So let's start:
This first project can be a little more time consuming and may need a lot of patience to get it done, but we can assure you that the end project will be well worth it. But don't take our word for it, just check out the source link and check out a project that won the 2011 Bright Ideas Lighting Design Competition!
Have you ever been disappointed when you had to throw out a plastic spoon even before using it because the handle broke? Well, you can look at this in a whole new light (pun intended) from now on. Using all of those broken spoon heads you can have an elegant and interestingly designed lamp that you can brag to your friends about making it.
This third project which we have featured in today's article is on the dull side. I have to appologize because we don't have an exact step-by-step tutorial for it, but I believe the principle is basic and with a little creativity, you can do this very easily at home. 
Cupcakes are one of the most beloved desserts from all around the world, but did you know that one of the main components in making these delicious treats can be repurposed to serve as a beautiful diy lamp? I am, of course, talking about the lovely paper cupcake liners, which can create a beautiful sphere lamp that will add uniqueness and a certain charm to your home.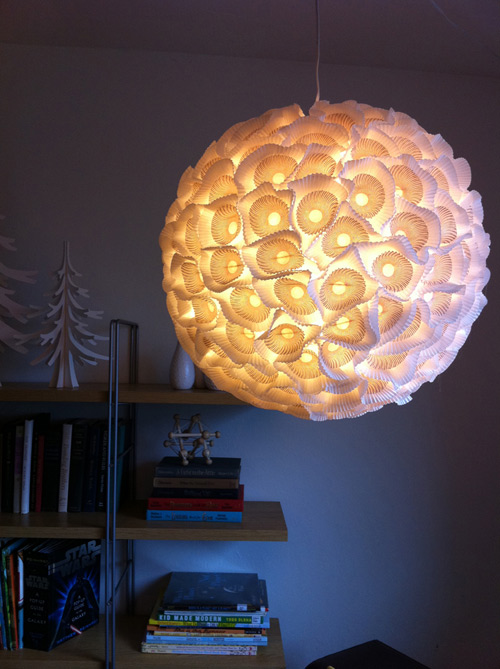 If you're the kind of person that likes drinking soda out of a can, then we're the here to teach you what to do with all those extra tabs. And since you've figured out the theme of this article so far, you must have already figured out that we are going to show you how to make a lamp out of all those extra tabs. 
 For today's last project I will leave you with a bit more of work to do. This Paper Starburst Pendant Lamp, as its named on the original website, is a simply gorgeous diy project that you must try if you have the time. The material used for this lamp is white vellum, which I guess not many of you may have around the house but if you check out the project page, you will see that it is going to be worth every minute you put into it.